What is the BIS Hallmark?
14 Feb
Posted By
0 Comment(s)
1401 View(s)
Why Should You Buy Original BIS Hallmark Jewellery?
Want to know why should you buy original BIS hallmark jewellery? Then you have landed on the ideal page to resolve your queries! People buy and wear jewellery to express their personal tastes in aesthetics through their attire and choice of cosmetic accessories. Besides, they also purchase ornaments with the aim of a long-term investment. In both cases, it is extremely crucial to determine the purity and authenticity of such items. Otherwise, you would lose money without incurring any sort of dividend.
You have surely heard that people often complain about counterfeit or impure quality jewellery. The Government of India has established the BIS (Bureau of Indian Standards). It is an accreditation organization that hallmarks and certifies the purity of gold.
What is Hallmarking?
Before discussing much gold hallmarking, it is important that you comprehend the meaning of the term 'hallmarking'. Hallmarking basically refers to the exact determination and comprehensive recording of the genuine metal components that are presented in ornaments and other items. In hallmarking, official seals are used in different countries to ascertain the fineness and purity of various precious stone and valuable metal items.
In India, it is the BIS that hallmarks all types of metal items to safeguard purity and quality consistently. You have to remember that BIS has the sole authority to validate whether a metal item strictly conforms to the prescribed quality parameters or not.
BIS Hallmark is categorically divided into two parts, both of which are required to be registered by BIS:
1. Hallmarking Centre.
2. Jewellers.
Jewellers take their ornaments and jewellery to a trusted BIS registered Hallmarking Centre. The Hallmarking Centre determine the purity of the gold, and correspondingly put a stamp of hallmark on the items and return them to the jewellers. For the Hallmarking and assessment of purity, a BIS registered Hallmarking Centre charges Rs. 35/- per article of jewellery.
Why is Gold Hallmarking Done?
The hallmarking of gold ornaments in India was started in 2000. The scheme is voluntary. However, the government is planning various initiatives with the aim to motivate jewellers to sell original BIS hallmarked jewellery. Right now, it is essential to address the basic query- Why gold hallmarking is done? When you are posed with such a question, you should convey the basic objective of hallmarking. You should also explain to people that a hallmarked gold item represents genuine quality and pure metals.
Besides, once jewellery comprising gold is hallmarked, you are able to determine the exact market value. You should not forget to mention that jewellers who sell BIS hallmark gold items are actually able to enjoy trust and credibility among the customers. This would do enough to promote the importance of purchasing and selling BIS hallmarked gold ornaments.
Latest Government Rules On Hallmarking
Initially, hallmarking the gold ornaments was optional. But recently, the government of India has made it compulsory for every jeweller to hallmark their gold jewellery. A notification in this matter was issued on 14th January under the supervision of the Ministry of Consumer Affairs, Food, and Public Distribution. The notification has clearly stated that retailers and jewellers in India are mandated to comply with the regulations of the BIS (Bureau of Indian Standard) within the 1st of June 2021. After the mandated deadline, jewellers will be banned from selling gold pieces of jewellery without a hallmark.
How to Identify Original BIS Hallmark Gold Jewellery?
One can never be too careful to avoid ending up purchasing gold without a hallmark. Hence, it is essential to gain the knowledge to easily identify original BIS hallmark gold jewellery. That will assist you in making the ideal purchase of hallmarked gold which translates to sustainable investment.
At present, five symbols help to know whether a piece of gold jewellery is hallmarked or not. These symbols are done either with the help of a laser device or punches. Besides, advanced X-ray fluorescence method is also employed. It is basically utilised to engrave finished gold items as the technique guarantees automated, quick, and indelible computer printing. In order to detect and filter impurities in gold, the cupellation or assay method is utilized. The technique mainly separates the impurities from the gold that eventually helps to hallmark the metal properly. Only a registered hallmarking and assaying centre has required infrastructure to employ such a technique.
From the 1st of January 2017 onwards, 4 Hallmarking symbols or insignia are mandatory to be engraved on jewellery articles to validate their authenticity. You should be able to detect these 4 major hallmarking insignia at the interior or back portion of the jewellery with the help of a magnifying lens. These signs include -
1. BIS Hallmark Sign.
2. Purity in Carat & Fineness.
3. Assaying &Hallmarking Centre's Mark/Number.
4. Jewellers Identification Mark/Number.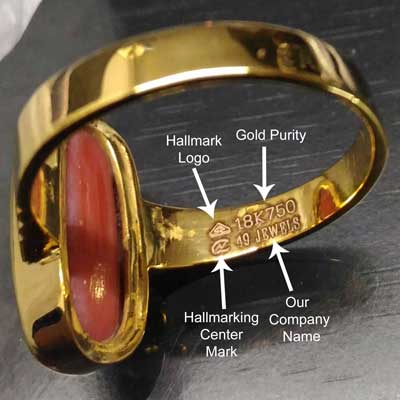 How karat is associated with gold purity?
The term karat or carat mainly highlights the purity percentage of metal. For example, 24-carat gold represents the extremely purest form of metal. In brief, the presence of genuine gold is 100 per cent. But to add some strength, the jewellery comprises 18- 22 carats of gold. If you want to mention this value in terms of percentage then the figure of 18k will be described as 75% and that of the 22k will be mentioned as 91.6 per cent. Besides, purity, carat also enables you to determine the ornament price. On visiting a jewellery store, you will surely able to spot the distinct prices of gold jewellery based on the karat value of 18k, 22k, and 24k. You also need to remember that a piece of jewellery with a lower carat usually implies the presence of other metals apart from the gold.
You must remember that the hallmarked jewellery for gold usually comes with 3 grades such as as- 14k, 18k, and 22k. You will be able to understand these karat values overof your gold with the help of these codes below-
| | | |
| --- | --- | --- |
| Karat | Percentage of Pure Gold | Fineness (BIS Hallmark) |
| 24K | 99.9 | 999.9 |
| 22K | 91.60 | 916 |
| 18K | 75.00 | 750 |
| 14K | 58.50 | 585 |
| 12K | 50.00 | 500 |
| 9K | 37.50 | 375 |
Jewellery containing gold often attracts our attention. People do present gold ornaments to their loved ones as a mark of adoration. Besides, the purchase of gold ingots is also a profitable investment on a long-term basis. No matter, whatever, your objective, it is necessary to spend money on the right products. Buying gold without hallmark is definitely a loss which you ought to be able to anticipate. Hence, when planning to buy gold, just follow these straightforward guidelines-
1. Assess Purity
Gold, which is directly obtained from the mines, is naturally found along with various different impurities and other elements. Hence, it is very necessary to determine whether your jeweller is selling impure gold or fine gold. This you can easily determine by reading the karat values. A 24 Karat gold usually implies a purity level of 99.9 per cent. But that is not at ideal to manufacture ornaments. So, if you are interested to buy a gold necklace or ornaments of this metal, just focus on the karat value of 18k, 14k, and 22k. It shall eventually enable you to obtain the right articles within the proper market value quite easily.
2. Determine Weight
In India, gold ornaments are mainly sold in terms of weight. It means, the heavier the jewellery, the costlier the item is going to be. Sometimes, the jewellery manufacturer adds costly gemstones to ensure that you are bound to pay a hefty amount when buying a piece of gold jewellery. Hence, you have to separately assess the weight of the gold in jewellery so that market price does not trouble you at all.
3. Manufacture Charges
The making charge of gold jewellery is decided on 2 main parameters which are the labour cost and current market value of the metal. But such an approach eventually increases the likelihood of having to pay more than the exact amount. Hence, you should only focus on the fixed making price when bargaining with the store owner. It shall eventually allow you to receive the right commodities within a fair price.
4. Manufacturing Type
These days, jewellery of metals like gold are usually manufactured with the use of machines. But you will also have the chance to come across gold ornaments which are handcrafted. It is certain that the cost of these handcrafted ornaments is naturally higher than the ones designed, cut, welded and shaped by machines. So, you should concentrate on buying machine-made pieces of jewellery to pay a comparatively lower amount when buying the elegant piece.
5. Occasions
The gold price usually rises during festive seasons due to an expected spike or surge in the demand. If buying gold at lower and more wallet-friendly prices is important to you, then you should focus on buying gold articles during the non-festive seasons. Besides, during the festive seasons, you will hardly have the chance to interact with the store owners about the karat value or other vital matters which determine the purity of the gold ornament. Such an approach will help you to derive the pure and genuine item of gold at an affordable price.
6. Buy Back
Right now, most jewellery items come with an offer to avail buyback. It means that you have the chance to exchange your old gold ornament piece set with the latest one. Obviously, you have the right to exchange jewellery to match the present trend but remember, it hardly affects the price of gold. Hence, you should concentrate on choosing the elegant gold jewellery set which will be able to offer you earn more money in the future through this buyback program.
7. Store Reputation
At present, there are innumerable jewellery stores in India. Although it raises your buying options, it also raises your chances to end up buying counterfeit items which you will find hard to exchange. Therefore, you should focus on buying gold ornaments from reputed stores. This is a safe and sensible way to purchase fine quality articles at reasonable prices. Besides, the owners of such stores also take the initiatives to exchange or replace any of your defective ornament within a shorter duration.
Conclusion
It is always better to buy original BIS hallmark gold jewellery. This shall ensure that you pay the right amount for the exact item. Besides, it always feels good to present a genuine gift to your beloved on special occasions throughout the year. So, while purchasing a gold item, just make sure that it bears the necessary BIS logo and other credible hallmarks and insignia. This will easily allow you to identify the right items very easily without much effort. You can also consult an expert to know more about the BIS marks in details.
Our BIS HALLMARK Certificate (Gold)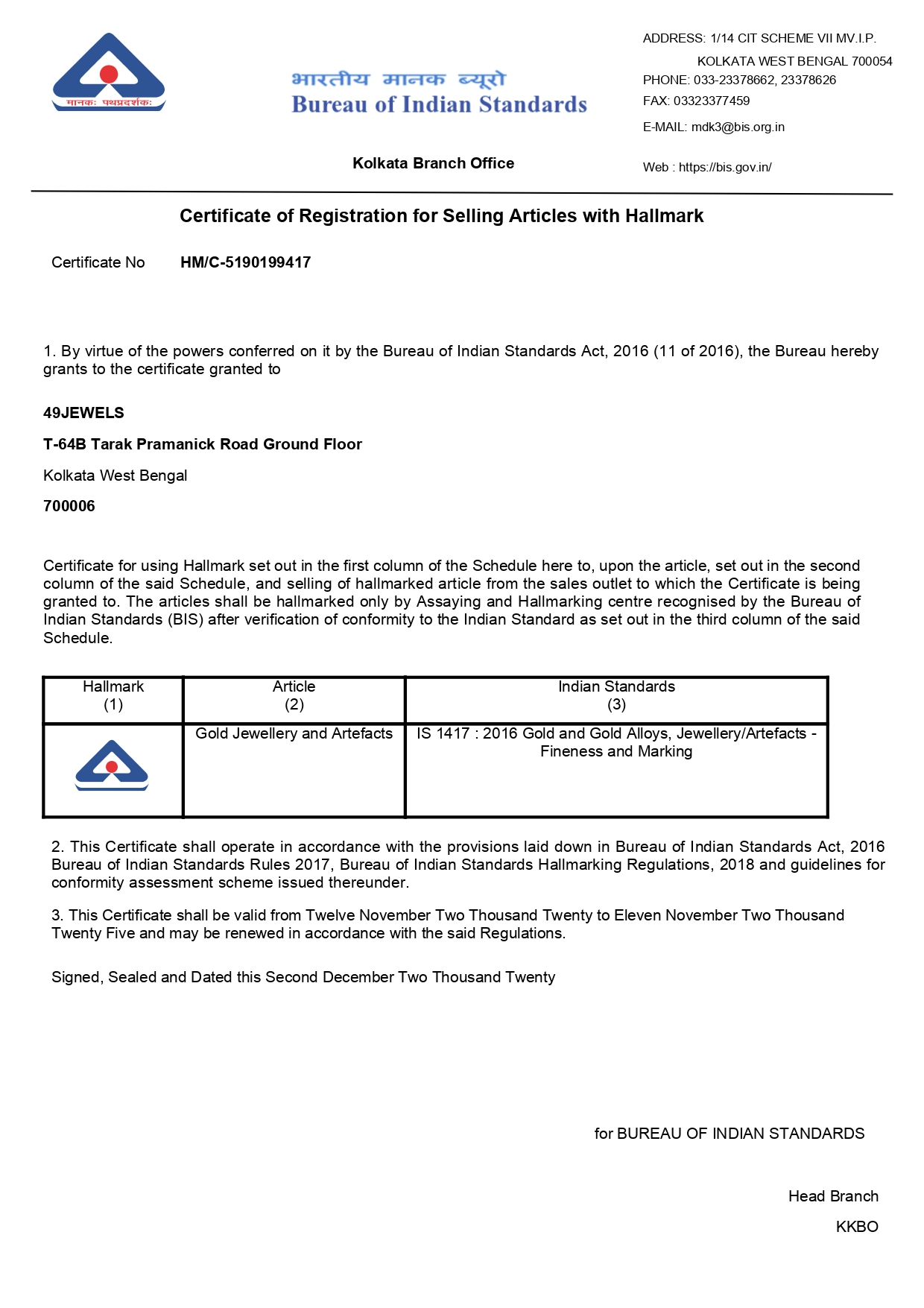 Our BIS HALLMARK Certificate (Silver)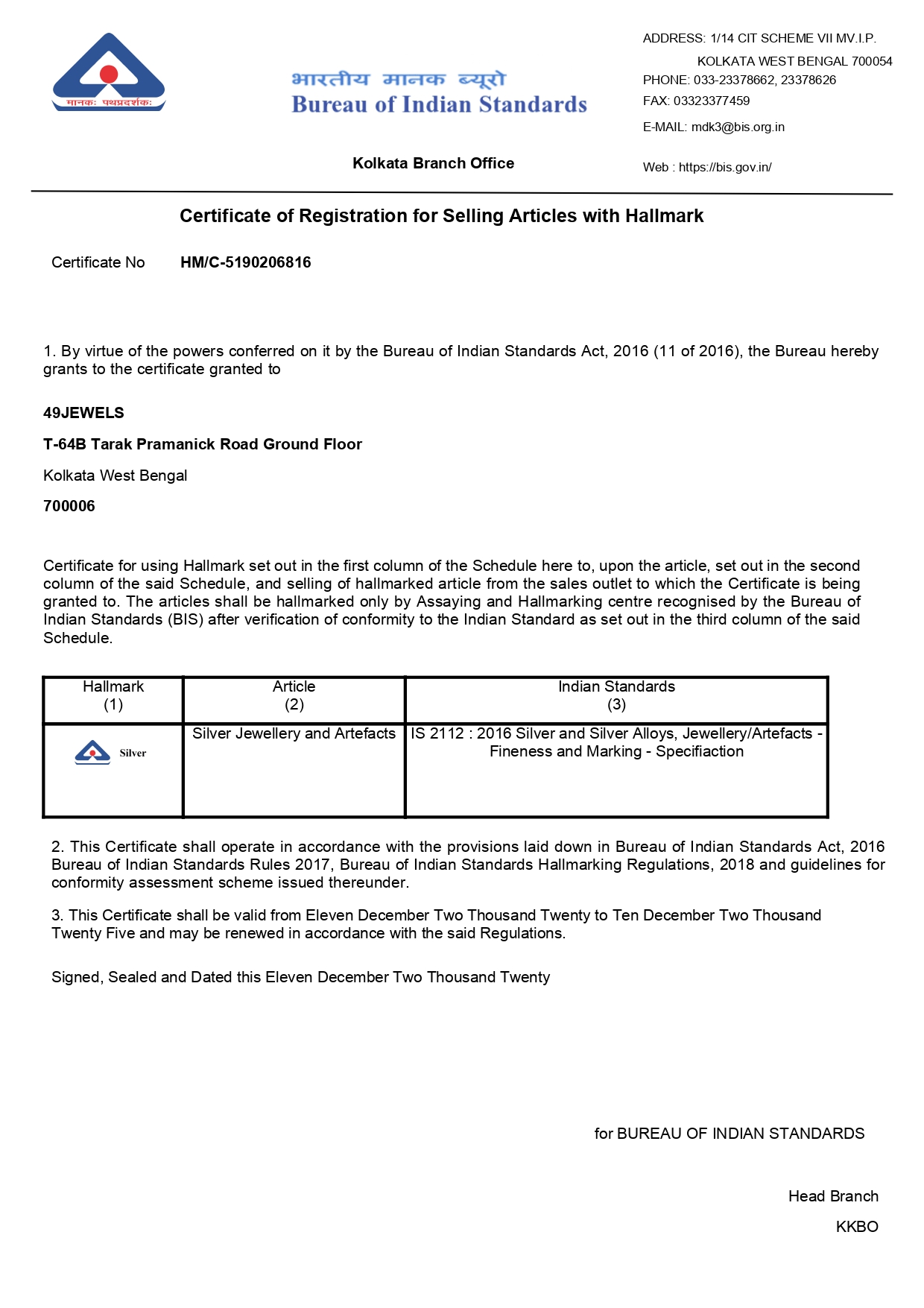 Do you want to verify the certificate on the BIS website?
Click this link Click me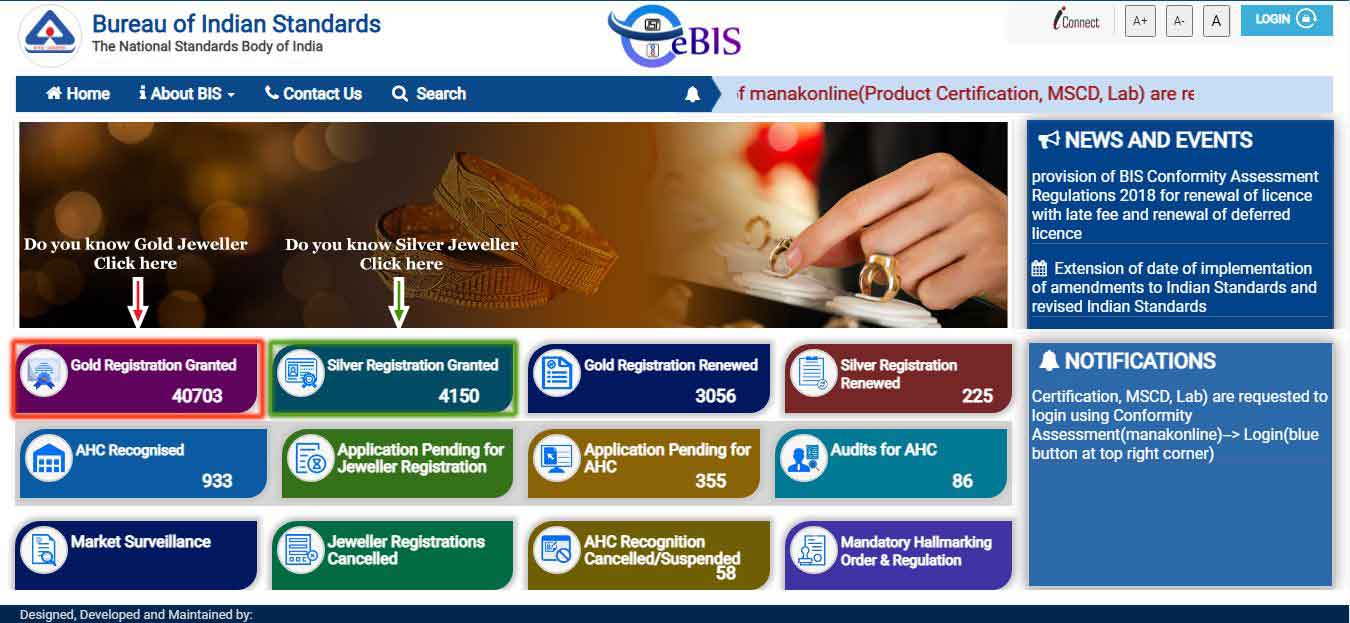 Open this page
Do you want Gold Registration Click Gold Registration Granted
Do you want Silver Registration Click Silver Registration Granted
Then Open this page and write the Company name in the search box, Show company name or address ( same process to silver registration)