17 Dec
Posted By
0 Comment(s)
71 View(s)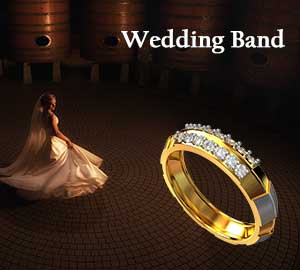 Indian wedding without heavy gold jewelry is unthinkable; the bride is expected to be decked in heavy gold and precious stone jewelry – trusted jewelry that has been the tradition for who knows how long. Even the Mahabharata and Ramayana mentions bridal jewelry – indeed, Sita's jewelry is one of the pivotal points of the great epic. The problem begins when the wedding gets over. Most of the brides do not know what to do with their heavy wedding gold as they really do no go with the modern lifestyle. But there are ways how we can actually turn the old fashioned ornaments suitable for the modern lifestyle. It all needs a simple touch of innovation. For example, a heavy gold chain can be twisted around the wrist several times to form a chunky statement bracelet that can be worn with Western clothes. A heavy Kundan necklace can be a statement piece with an off-shoulder evening gown. A nose ring can add a touch of bohemia with a long skirt with flowing lines.
If it comes to that, we can change the setting of our Grandma's trusted jewels and adapt them to suit our modern lifestyle. I had inherited a very old jewel-encrusted hairpin from my grandmother. It had tassels with South Sea pearls hanging at the end of the tassels. The body of the hairpiece was encrusted with emeralds and diamonds and the setting was heavy gold. Since I have short hair, using it as a hairpiece was out of the question. I took out the tassels and adapted the main body as a brooch. I usually use it at my shoulder to pin my saree or wear it on my lapel when I wear western clothes, especially on formal occasions. My jeweler fashioned out a bracelet from the remaining tassels and pearls, which goes wonderfully with any Western dress I wear, be it formal or casual. In another instance, my grandmother had gifted me a pair of anklets in heavy silver. It makes a noisy accessory, which I am not comfortable with. I simply wear it as a heavy silver necklace and it makes a lovely statement neckpiece that keeps people guessing. With a little bit of effort, small ear danglers can be made out of some silver to go with the neckpiece as well, though I am yet to get around to that, for no other reason that sheer laziness.
With a little bit of innovation, the jewelry that our mother and grandmother swore by can be adapted to suit the modern fashion – there is no reason to chuck them as is sadly the trend nowadays. The trusted jewels of Indian households are not only beautiful and costly but amazingly adaptive as well.